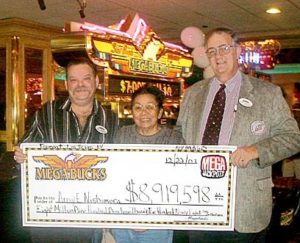 Late on the morning of Monday, December 22, 2003, less than 24 hours into her annual holiday to Las Vegas from her home in Kaunakakai on the Hawaiian island of Molokai, Amy Nishimura held aloft a cheque for $8.92 million dollars, having hit the jackpot on the 'Megabucks' slot machine at the Fremont Hotel.
Nishimura, who celebrated her seventy-second birthday just two days later, had apparently been playing slot machines at the Fremont Hotel since the Eighties, but was especially fond of one International Game Technology (IGT) 'Red White & Blue' machine. 'My machine', as she called it, was linked to the Megabucks progressive jackpot system, which connects hundreds of slot machines across Nevada, and cost $3 a spin to play for the jackpot payout.
Having eaten breakfast, but not yet been to bed, Nishimura had reportedly been playing the machine for about three hours when her investment of $140 or so finally paid dividends. She lined up three golden 'Megabucks' symbols on the pay line of the standard, three-reel slot machine – in so doing, defying odds of 16.7 million to one – and won $8,919,598 with 37 credits left to spare.
Nishimura admitted to being nonplussed, initially, but after time to reflect on her good fortune – believed to the biggest win on Las Vegas slots by a Hawaii resident since John Tippin won a Megabucks jackpot of $11.9 million nearly eight years previously – came up with some ideas about how to spend her winnings. They included paying off her mortgage, visiting Las Vegas more often and indulging her family.