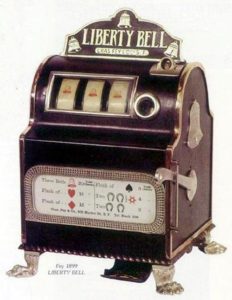 The term 'slot machine' is actually a contraction of 'nickel-in-the-slot machine' and was originally used to describe any coin-operated machine, including vending machines. However, the invention of the first modern slot machine – in the sense of a coin-operated gambling device, which also paid out in coins – is credited to Bavarian-born American inventor Charles Fey in 1895. His so-called 'Liberty Bell' machine featured three mechanical reels activated by pulling a lever and offered a 'jackpot' of fifty cents, which was paid out into a trough at the bottom of the machine.
Fast forward nearly seven decades and the next step in the evolution of the modern slot machine came in 1963, with the appearance of the first fully electro-mechanical slot machine, known as 'Money Honey'. Manufactured by Bally Technologies, Money Honey was still, essentially, a mechanical device, but an electrically-operated coin hopper made for larger, more spectacular payouts, while flashing electronic lights added to the allure of playing.
The first video slot machine – that is, the first to employ a microprocessor, random number generator and video screen, rather than physical, mechanical reels – was made available to casinos in 1975. However, the so-called 'Fortune Coin' machine, invented by Walt Fraley, was not well received by sceptical gamblers and the following year Fraley sold out to International Game Technology, who used the machine as the basis for several new games.
Last, but by no means least, in the evolution of the slot machine came the online slot, which was made possible by the invention of the World Wide Web, by British computer scientist Sir Tim Berners-Lee, in 1989. The first online casino, 'Gaming Club' by Microgaming, launched in 1995 and included a rudimentary, three-reel online slot called 'Fantastic Sevens'. Three years later, Microgaming also launched the first wide area progressive jackpot online slot, known as 'Cash Splash'.